Summary
For businesses, "going green" isn't just a catchphrase—it can be a cost effective and energy efficient way to maintain outdoor areas. Installing commercial artificial turf is the perfect solution for this—not only does it eliminate the high water bills associated with natural grass maintenance and provide an aesthetically pleasing look that lasts all year long, but it also offers several other advantages that make it worth considering. In this post, we'll talk about how switching to artificial grass can help your business in many ways while still being good for the environment. You'll learn why you should choose commercial artificial turf over natural grass as well as how easy its installation and upkeep are compared to its traditional counterpart.

Less maintenance equals lower costs.
Commercial artificial turf needs a lot less water and other resources to keep up than natural turf, and it's also much easier to keep up. Artificial grass never needs to be cut or fertilized, meaning that you can save a lot of time and money on labor costs associated with traditional lawn care. Additionally, since the turf requires no pesticides or herbicides, you can also save money on chemical products.
Less disruption means more productivity.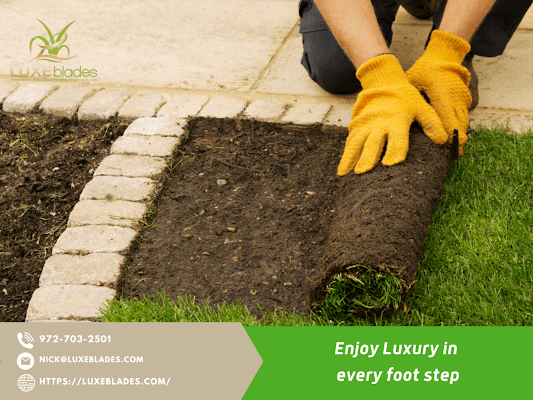 Commercial artificial turf is much quieter than natural grass and can be used in any environment, even in busy places such as schools or offices. This means that it won't get in the way of how your business works and won't stop the flow of work. Furthermore, it is also much more durable than natural grass, meaning that you won't need to worry about it being trampled by foot traffic or worn down with heavy machinery.

A healthier environment in and around your business.
Commercial artificial turf can help reduce the amount of air pollution near your business. In addition to not needing any chemicals or fertilizers, it also doesn't require gasoline-powered lawn mowers, which are a major contributor to air pollution. Artificial turf is also lead-free and non-allergenic, making it safer for the environment and people nearby. Since you don't need any extra water to take care of artificial grass, you can also help keep local water supplies from getting too low.
Professional Appearance
Commercial artificial turf looks and feels just like natural grass and can be tailored to fit any landscape. This means that you can create a professional-looking outdoor space without the hassle of maintaining natural grass. Furthermore, because it doesn't require regular upkeep, the beautiful look of your commercial artificial turf will last for years—which makes it a great way to make a good first impression on customers and visitors.
To Sum Up
Overall, commercial artificial turf is a great choice for businesses looking for an eco-friendly and cost effective way to maintain their outdoor areas. Not only does it require less maintenance and disruption, but it also helps create a healthier environment in and around your business. Switching to fake grass will help your business in many ways because it has so many benefits, including a lower cost, less disruption, and a professional appearance. So if you're looking to upgrade your outdoor space without sacrificing quality or the environment, then commercial artificial turf could be the perfect solution for you.
Contact Luxe Blade Grass to learn more about our commercial artificial turf solutions around Prosper, Tx and the surrounding areas. Our team of experts is happy to answer any questions you may have and help you decide on a turf that best suits your business's needs. Contact us today and let's get started!